We are delighted to announce the launch of redesigned "Mission Control" - our Reseller Management Tool. To make your interaction with the world's most advanced terminal management system as seamless as possible, we completely redesigned integral parts of Mission Control's user experience to be simpler, more modern, and more intuitive, allowing for easier navigation and discovery. We are excited about the improvements.
We are also committed to adding more value for the users of Mission Control, the world's most advanced terminal management system. Recently, we added multiple powerful features to enhance productivity for admins, help marketers reach out to merchants, improve terminal troubleshooting capabilities and customize terminal experience.
All these Premium features are available on trial to all Resellers for two months.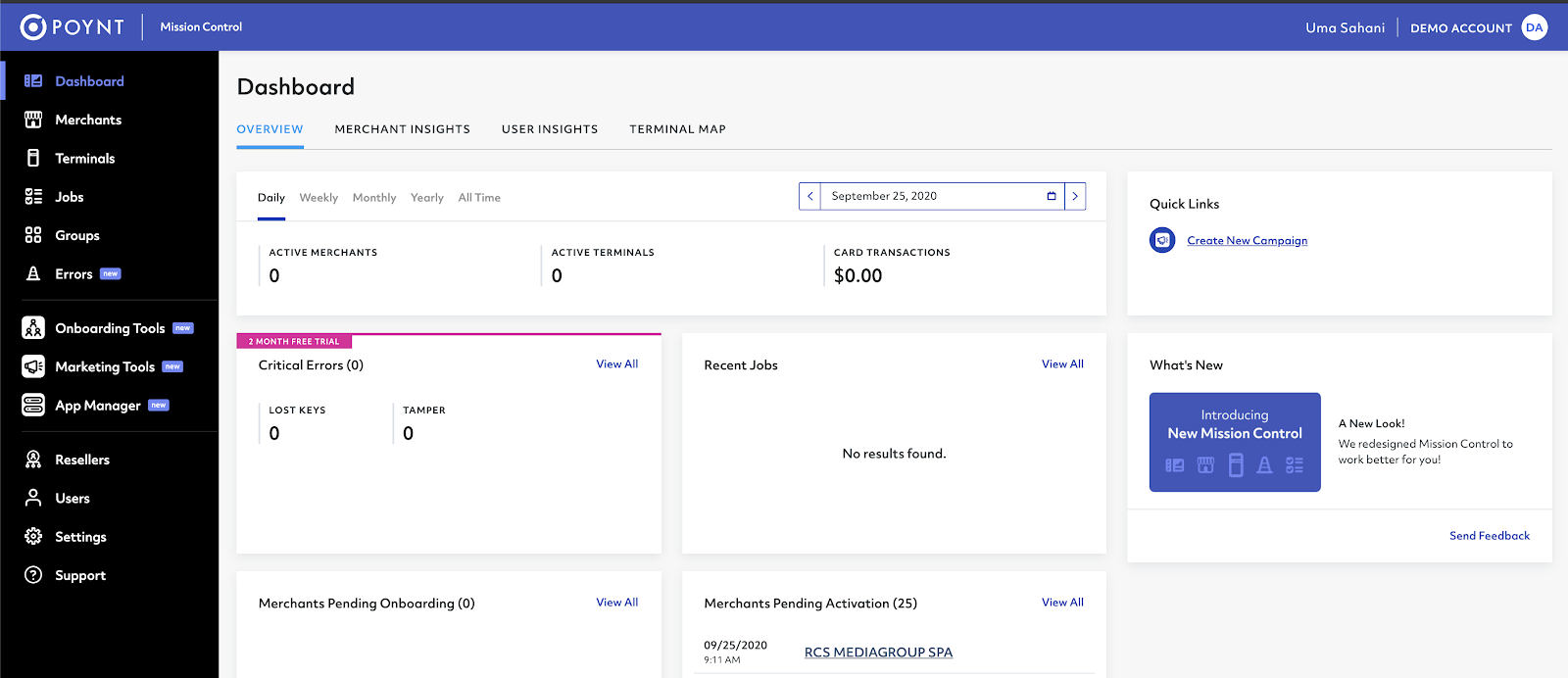 The New Navigation for Mission Control
The new navigation is set up in the following sections:
Dashboard - A summary of the most important data and quick actions
Merchants - List of merchants with actions to onboard
Terminals - List of terminals with key actions
Jobs - List of jobs created with status and ability to modify
Groups - List of terminal groups with the ability to manage them
Errors - List of critical errors and key actions
Onboarding Tools - Tools for activating a terminal, installing latest software and key management
Marketing Tools - Promotions, Popup Messages, Push videos & images
App Manager - App ordering, app rollout, app billing & the ability to push apps to terminal or groups
Resellers - Create and manage sub-reseller accounts
Users - Create and manage internal users/roles
Business Settings - Set up your business profile
Support - Submit request to Poynt support team
The new redesign comes with some additional features like Errors management, Marketing tools and App Manager. Resellers will still follow the same process regarding Terminal Management, Merchant onboarding, and management of their account details, but the look and feel of these sections has been completely revamped to improve usability and discoverability.
How to switch to the new Mission Control?
You will see a new pop-up when you login to Mission Control with a link to switch to the new design. Have fun exploring!

In case you want to switch back to old Mission Control, you can use the link on the introduction card on the right hand side of Dashboard as shown below. Please note that the old version will not be available after November 5th, 2020. All users of Mission Control will be migrated to the New Mission Control.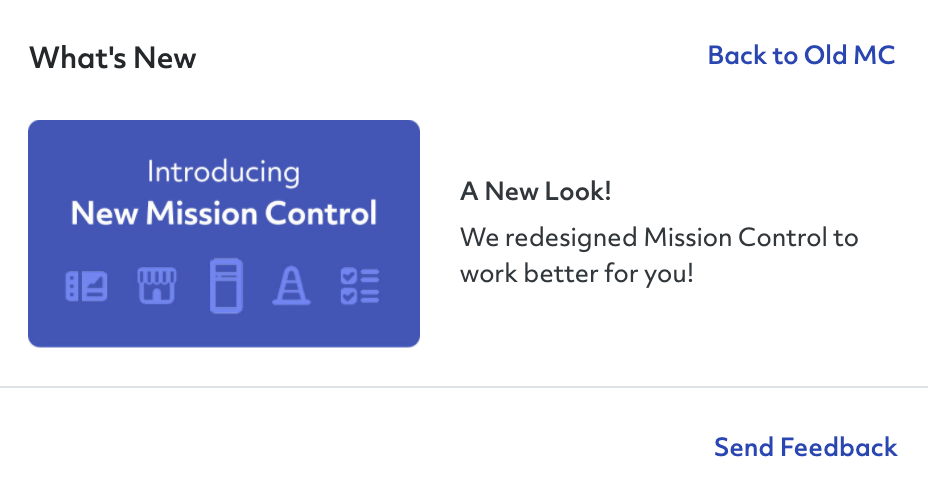 New Premium Features in Mission Control
1. Marketing Tools
Resellers can market multiple products and services to merchants on the Poynt terminal screens in real-time.
Key Features:
Execute marketing campaigns on all or specific merchant terminals
Create multiple campaign templates
Embed rich text, images and URLs in campaign content
Schedule campaign launches for a specific date and time
Preview Campaigns
View Campaign History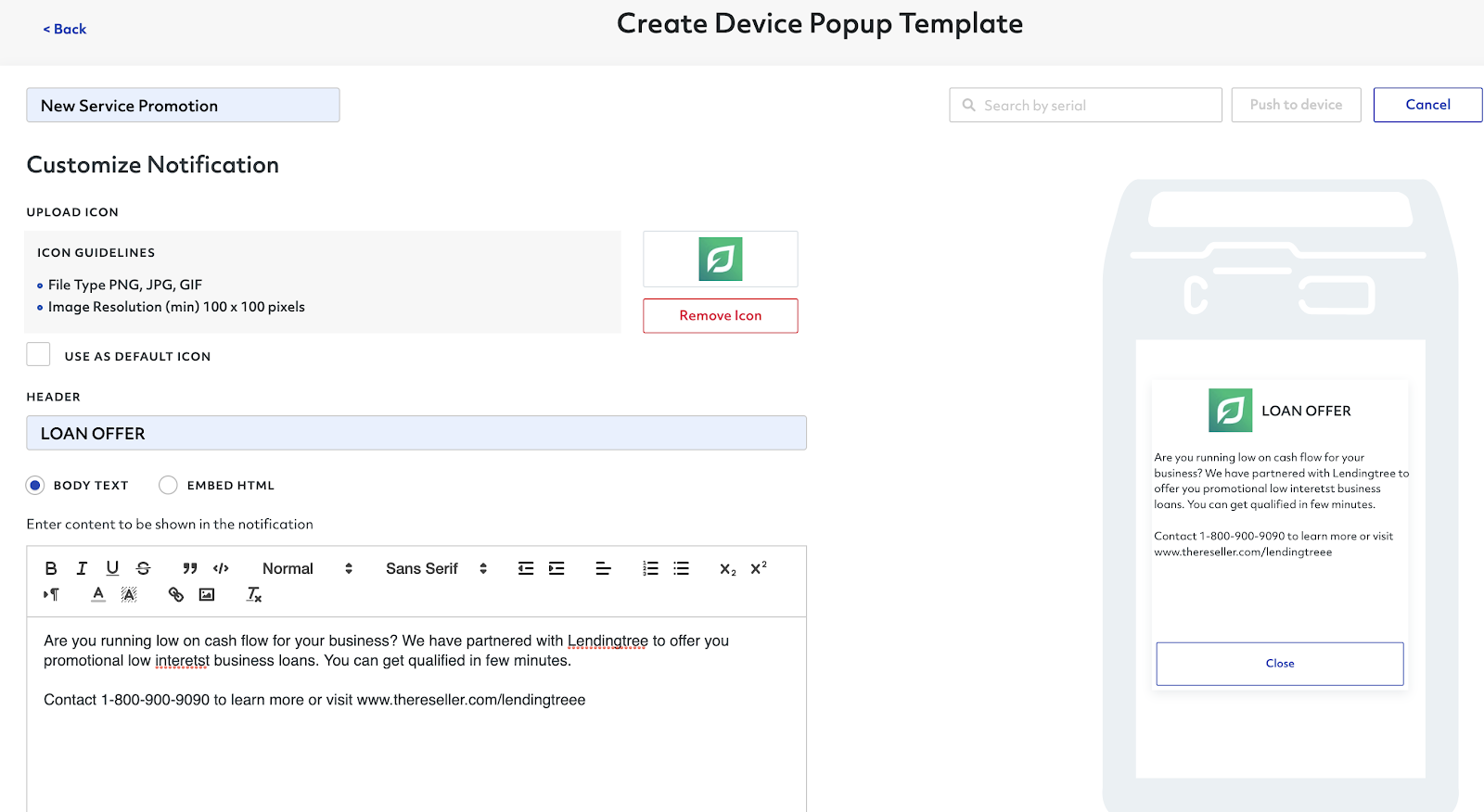 2. Errors
Errors is a new section in Mission Control that shows all critical terminal errors in real time. Users have the ability to see details of a specific error, view logs associated with it, as well as resolve the errors.

3. App Manager
Users can now customize the layout of Apps in the terminals using Mission Control. They can create a specific order of apps as well as customize the background. The created layout then can be applied to one or more devices.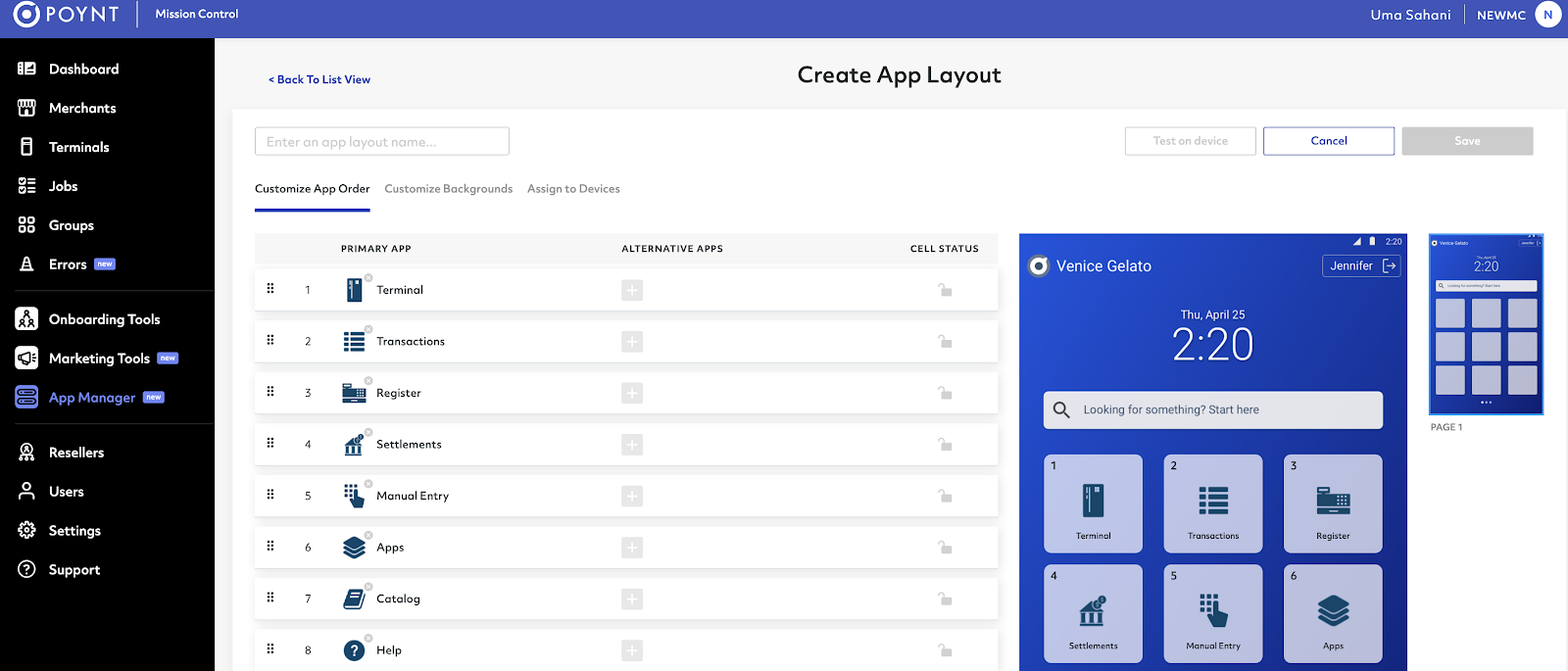 We are hosting two webinars where we will demo Mission Control's new navigation and new premium features To register for the webinars, please follow the links below. (Please note that both webinars will go over the same material, so participants can choose either one of them).
Webinar 1 on October 6, 2020 9:00 AM (PST) - Register

Webinar 2 on October 13, 2020 9:00 AM (PST) - Register
If you have any questions regarding this, please reach out to Poynt Support at support@poynt.com.