Commerce infrastructure is broken!
We consumers carry around supercomputers in our pockets and purses that do magical things we could not imagine even a few short years ago. However, in-store technology still centers around a glorified calculator. While dongles on consumer devices have tried to fill this gap, these solutions lack the security and reliability to achieve mass adoption. The traditional payment terminal provides both security and reliability, but was designed before the consumer internet even existed and hasn't really changed since. Innovation and mass adoption have been at odds. That's why we created Poynt - the world's first "smart" payment terminal.
A smarter device.
The Poynt Smart Terminal brings the versatility of a mobile device to a future-proof payment terminal at a price that any merchant can afford. We turned the traditional payment terminal into a fully touchscreen, multipurpose device. Built from the ground up to enable rich experiences for both merchants and their customers, we enhanced the security and reliability of a traditional terminal and combined it with the best in mobile hardware including a second touch screen and printer - all in one beautiful package.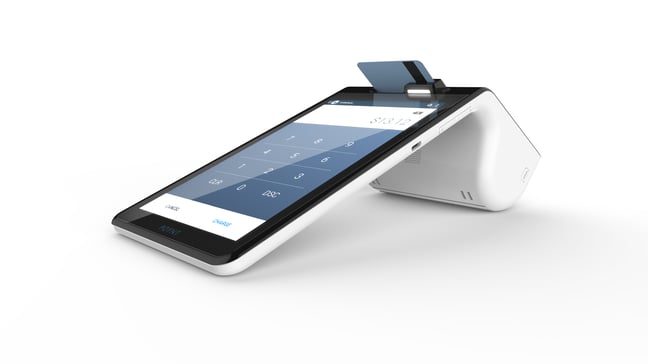 Future Proof.
We wanted to make sure this device would keep up with the rapidly changing payments landscape. From Google Wallet and Apple Pay to QR codes and Bitcoin, merchants are increasingly confused as to what's relevant and what may be a waste of money. That's why we support all five payment technologies needed for the next decade - magnetic stripe, chip cards, NFC, QR code and beacon - all directly within the device, no add-ons or dongles needed.
Hardware & Software.
Great hardware wouldn't be complete without powerful software. The Poynt Smart Terminal comes with three core apps - Terminal, Register and Insights*. Terminal is intuitive and easy to use. It can connect to a merchant's pre-existing cash register as a companion to automate the transaction. Register allows Poynt to run as an all-in-one device by connecting to a cash drawer and replacing the traditional cash register. Finally, Insights* is an amazing analytics tool that runs both on the device as well as a mobile app so that merchants can see how business is doing in real-time, even while away.
PoyntOS.
The full potential of the Poynt Smart Terminal comes from being a rich developer platform. We know we can't come up with every great idea, let alone build it. We forked Android to create PoyntOS, an operating system that was purpose built for commerce while staying familiar to developers. We added security, payments and commerce services so developers avoid the heavy lifting and focus on what they do best - innovate. We didn't build POS, loyalty, accounting or any other applications because we want to partner with the many folks who already do these things well. We know there is no one-size-fits-all solution and we're passionate about enabling choice and flexibility for merchants, while not locking them into mediocre solutions. We're starting with a few amazing partners - Vend, Kabbage, Swarm, Boomtown, Bigcommerce and Intuit - and we can't wait to see what the rest of the developer community can do.
Let's do this.
The EMV mandate will require all 16 million US payment terminals to change, and is a once-in-a-lifetime opportunity to fix our broken commerce infrastructure. We call upon banks and developers to join us in this mission to do for merchants what smartphones have done for consumers - usher in a new chapter of commerce.
Osama
* Previously called Copilot