People who let their work do the talking are people like Ji. Take a minute to learn more about our superstar designer and world traveler...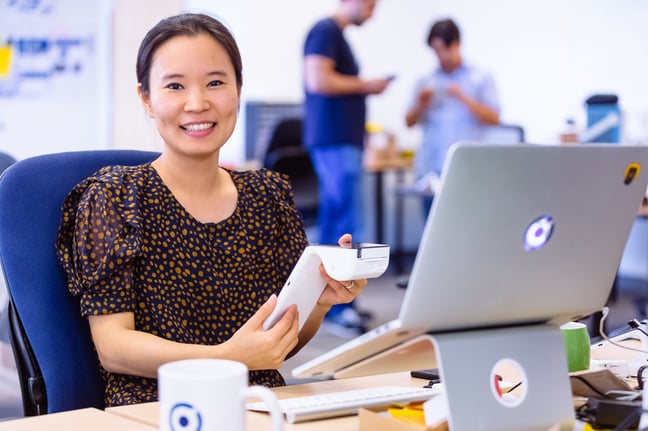 Name: Ji Hyun Park
AKA: Ji or @Jihyun_Park
Catchphrase: "You are not your user"
So let's get started...
What is your role at Poynt? I am a founding designer at Poynt, responsible for creating a world class brand, user experience, and the look & feel for all Poynt products and services. I translate smart technology into simple, user-friendly experiences that people love.
What was life like before Poynt for you? Building experiences towards becoming a full stack designer + motivating and teaching people to become design thinkers.
What are the top 3 elements you considered when designing the Poynt terminal UX
Design with empathy in mind
Seamless and fluid
Intuitive, simple, and easy
How did you come up with the Poynt logo? Poynt aims to be a compass for commerce, navigating our partners and customers to victory via innovative technology and legendary user experiences. The Poynt logo is a manifestation of our goal, pointing up and to the right towards our mutual success.
How do you help Poynt fix commerce? I want to take the commerce experience for merchants and customers to a whole new level. The age-old process of paying for something is in a huge transition, forcing people to change behaviors entrenched for years. Our objective is to make this transition (and future ones) as easy and painless as possible, paving the path for amazing new ways to pay.
What is your favorite place to visit in the Bay Area? Big Basin Redwoods State Park, but I am definitely still exploring this wonderful state. Any recommendations are welcome!
It's a fact: I love to travel. So far, I've visited 14 countries: Korea, US, Mexico, China, Japan, Russia, Estonia, Finland, Italy, France, UK, Sweden, Germany, and the Philippines. I want my passport to be full of stamps!
Work with Ji in Design or check out the rest of the opportunities to join our team of super passionate people driven to fix commerce.