The friendly smile you see when you first walk through our doors. Ladies and Gentlemen, please take a minute to learn more about our very own Ms. Do-it-all, Soke...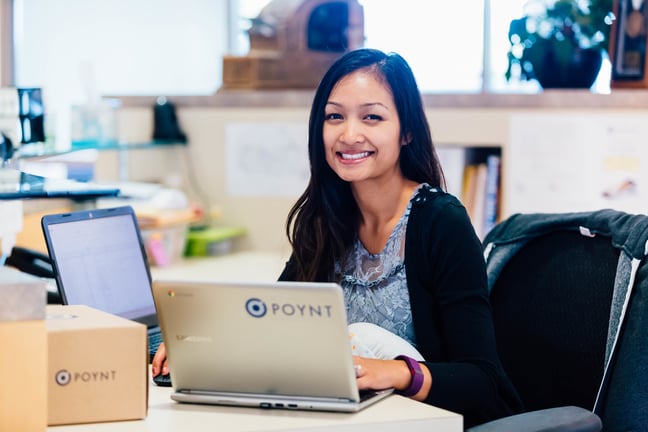 Name: Sokcon Tim
AKA: Soke (So kee) or @soke_tim
Catchphrase: "I got chu"
So let's get started...
What is your role at Poynt? Classic case of "Don't judge a book by its cover" - by title I am an Office Manager, but in reality I am involved in anything and everything between these four walls. From coordinating various projects in accounting, shipping, catering to managing the entire team's intense scheduling, I am literally in 5 places at once...at all times.
What was life like before Poynt for you? Before Poynt, I was an undergrad at college working towards my bachelor's degree. Fast forward to a chance meeting with Osama, and the rest is what you would call 'history.'
What was your first reaction when you saw the Poynt Smart Terminal? Well, the first time I saw the Poynt Smart Terminal was actually the cardboard mockup of what we wanted it to look like. Even then, I knew it was going to be awesome. Once I saw the finished product, I was in awe - I had never seen anything quite like it.
With the Poynt Smart Terminal, we are ushering in the connected commerce era. What does that mean to you? Poynt will be every merchant's new best friend. What makes best friends so powerful? It's the connection and communication that strengthens the relationship. Every merchant will have access to an ecosystem of connected partners striving to make commerce more a magical experience, and less a transaction, for customers.
October '15 was a big month for us at Poynt. What were the top three moments for you?
Money2020 conference was a big deal. We knocked people off their feet
Excitement over the Poynt Smart Terminal receiving PCI PTS + EMV certification. What a huge milestone for us. Let's just say it was a very emotional day
Sharing the news of our Series B funding round. Now I can start fulfilling even more orders
Can I add a 4th?? Bringing the Poynt Smart Terminal south to Brazil through our new partnership with Rede - what a month indeed!
Summer or Winter? Springtime when the weather is jussttt right!
It's a fact: I'm not good at parallel parking. Oh and I ate a rabbit for the first time...in Vegas...unknowingly...I swear. (What happens in Vegas stays in Vegas.)
Work with Soke and others or check out the rest of our opportunities to join our team of super passionate people driven to fix commerce.